Meet the team
The study has relied on a vibrant group of post doc, PhD students, research assistants and undergraduate students to make it such a success.
Principal investigator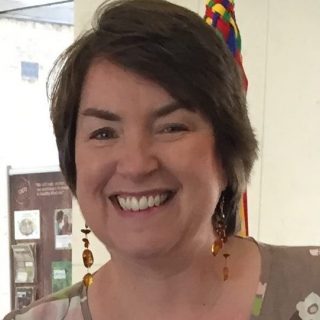 Courtenay Frazier Norbury
Courtenay did her PhD in Experimental Psychology at the University of Oxford, working with Professor Dorothy Bishop on the overlapping language profiles that characterise autism spectrum disorder and developmental language disorder. She remains interested in the overlaps between language, cognition, and social interaction across a range of neurodevelopmental conditions. She is one of the joint editors of the Journal of Child Psychology and Psychiatry and a founding member of the RALLI campaign (www.youtube.com/RALLIcampaign). She also loves baking and seeing her students flourish.
LiLaC members
Sarah Griffiths

SCALES Research Associate

Sarah joined LiLaC Lab in 2018 as a Research Associate for SCALES. She completed her PhD at the University of Bristol with Marcus Munafo and Chris Jarrold. Her PhD research focused on emotion recognition in children with autism. After her PhD, she moved to the University of Cambridge to work with Simon Baron-Cohen on social vulnerability and mental health outcomes in autism. She is particularly interested in understanding links between language, emotion processing and mental health in young people with neurodevelopmental conditions.

Laura Lucas

SCALES Research Assistant

Laura joined LiLaC Lab in 2018 as a Research Assistant for SCALES. She has a background in Psychology and completed an MSc in Developmental Disorders. Before joining the SCALES team, Laura worked on the SHIPS (Screening to improve Health In very Pre-term infantS) study at the University of Leicester which involved conducting developmental assessments with children 5 & 6 years of age born at less than 28 weeks gestation.

Jessica Banks

SCALES Research Assistant

Jess joined LiLaC Lab in 2018 as a Research Assistant. She completed her undergraduate degree in Psychology at the University of Sussex. Jess has worked in various research and education roles, with her latest Research Assistant post at the University of Sussex investigating infant colour vision deficiency and colour perception in autistic adults. She has a particular interest in the links between mental health and neurodevelopmental conditions in schools and their future impact on young people.

Lydia Yeomans

SCALES Student Research Assistant

Lydia is a final year MSci Psychology student at UCL. Her current project focuses on exploring the relationship between socioeconomic status and language development in the SCALES cohort, under the supervision on Prof. Norbury. She is particularly interested in neurodevelopmental disorders and the impact of socioeconomic disadvantage throughout childhood and adolescence.

Disa Witkowska

Student Research Assistant

Chatrin Suksasilp

Student Research Assistant

Chatrin is a second year BSc Psychology and Language Sciences student. His research interests lie in understanding the relationships between language and other forms of cognition like memory, attention and emotion processing. In addition, he is interested in linguistics and philosophy of mind, and how data from experimental psychology can inform debates in these disciplines.

Ian Chard

Student Research Assistant

Ian is a final year MSci Psychology student at UCL. His main research interests lie in exploring how social anxiety can induce dysfluency in stammering and understanding what neural impairments may underlie this relationship. His current project explores the contextual variation of stammering, also incorporating neuroimaging. Ian is currently assisting in the LiLaC Lab as a student research assistant, helping out with various projects including SCALES.
PhD Students
Claire Sears

Joanne Saul
Collaborators
Debbie Gooch

SCALES Project Manager (University of Surrey)

Debbie completed her PhD with Prof. Maggie Snowling and Prof. Charles Hulme at the University of York in 2009. Her research focused on understanding the comorbidity between dyslexia and Attention Deficit Hyperactivity Disorder (ADHD) by investigating the cognitive profiles associated with these disorders and their overlap.

She has continued to explore issues of comorbidity between developmental disorders and how this impacts on the behavioural manifestation of disorders to affect children's educational outcomes, first as a Research Fellow on the Wellcome Language and Reading Project at York University and now as the Project Manager for SCALES.

Megan Leverington

SCALES Student Research Assistant (University of Surrey)

Megan is a final year Bsc Psychology Undergraduate at the University of Surrey. She was fortunate enough to spend her placement year at Great Ormond Street Hospital in the Neurodisability Service, assisting in the assessment and diagnosis of neurodevelopmental disorders. Megan's main interests are Clinical and Developmental Psychology, and she hopes to complete further post-graduate studies and training in order to channel these interests into her future career.

Katherine Hain

SCALES Student Research Assistant (University of Surrey)

Katherine is currently in the final year of her Psychology degree, studying at the University of Surrey. Having worked with children and young people with autism spectrum disorder at the National Autistic Society for almost 3 years, she has developed a passion for working with this particular group of people. With an overall goal to become an autism specialist in the future, Katherine is focusing on gaining a variety of experience in the field of working with children and young people.

Sarah Venn

SCALES Student Research Assistant (University of Surrey)

Sarah completed a BA (Hons) in Early Childhood Studies in 2008 and has since been working in various roles educating children. These roles have included teaching assistant, English teacher and workshop leader. Sarah has always had a passion for child care and education leading her to study a BSc in Psychology with various different interests, one of which being children's acquisition of language.

Gillian Baird

Consultant Paediatrician, Guy's and St. Thomas' NHS Foundation Trust

Tony Charman

Professor of Clinical Child Psychology, IoPPN

Andrew Pickles

Director, Biostatistics Department, IoPPN

Emily Simonoff

Child and Adolescent Psychiatry, IoPPN
Alumni
Charlotte Wray

Harriet Maydew

Graduate Research Assistant on SCALES

Rebecca Lucas

Former PhD student is now a lecturer at Roehampton University